The Possibilities are Endless with Outdoor Drapes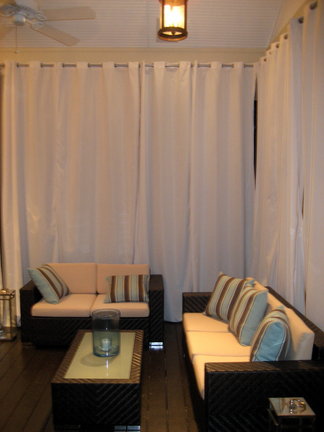 Are you looking for ways to add life to your outdoor space? Outdoor drapes are the solution! Take your outdoor and indoor space from ordinary to extraordinary using these creative ideas with your outdoor drapes. The possibilities are endless.
Want some temporary shading for those sweltering hot days? Outdoor curtains are great for temporary or long-term shading. Sunbrella and Outdura drapes are fade resistant, as well as flexible, so if you don't need them, slide them away or simply take them down. If you are looking to add shade and color to your outdoor space, this is your answer. Outdoor drapes come in a variety of shades, colors and fabrics, which means decorating is fun and your space becomes exclusively yours. Outdoor drapes allow you to control the amount of light in your space, just as you would indoors with blinds and curtains. Go from sunroom by day to screened-in by night.
What about UV and rain protection? Yes, outdoor curtains do that, too! With Sunbrella fade-resistant outdoor curtains, you can let the drapes catch the rays instead of your skin! We have been educated for years on the side effects of UV sun exposure, and most of us agree that staying out of the sun as much as possible is the healthiest choice for our skin. Outdoor curtains allow you to be outside all day long and not worry about the sun's harmful rays. Sunbrella fabrics are made from 100 percent solution-dyed acrylic, which means, even in the harshest conditions, it will not fade. The fabrics reflect water and air dry in a matter of minutes. Whether you are in the brightest and hottest sun, or caught in a downpour, Sunbrella outdoor drapes will protect you from rain or shine and look great while doing it.
How about occasional privacy? If you are looking for privacy and ambience, outdoor curtains provide both. If you are trying to block your neighbor's view, outdoor drapes do that, too! Outdoor drapes are great for porch enclosures, and the best part is, they can be temporary. This temporary solution allows you to get the best of both worlds. Outdoor drapes can create a privacy nook on your porch or patio while leaving the remainder open.
Privacy can be achieved indoors as well with the use of curtains. You can use your drapes to act as doors in your doorways or as a way to divide rooms into sections. If you live in an apartment or house with one large room, and wish to divide the room in sections without spending tons of money, drapes are your answer.
If you want to create a doorway out of drapes, choose a fabric that accents the room and hang it from floor to ceiling in place of a door. This will make your room feel larger. Plus, if you decide to change your design for the season, all you need to do is change your curtain color.
Do you want a focal point for your room? Because outdoor drapes come in so many styles and colors, you can virtually use them anywhere. Drapes create beautiful focal points for rooms and look great when paired with the proper lighting. Keep in mind that the color of your drapes will make a statement for the mood of the room. If you want bold colors- reds, yellows, oranges and blacks- to create a warm and energetic feel, try bright lighting or bedding. If you want to calm your space, use cool colors such as blues, greens and neutrals paired with dim lighting.
Drapes are also great ideas for headboards. Hang them floor to ceiling to create a dramatic look for your bedroom. If your bedding is a solid color, try a curtain with a pattern that accents the color of your bed. Do the opposite if your bedding has a design. If you don't want to paint your walls, but want to add some color, drapes are an easy way to do it. Bold drapes hanging from ceiling to floor create a dramatic look in any room.
Need a good place to take photos? A very unique and creative way to use outdoor drapes is for photo shoots. Whether taking family photos or casual photographs, drapes create a fabulous backdrop. This idea allows you to pay more attention to the quality of the photo and less attention to the background. The light source can be easily controlled because you can move the drapes in a direction relative to the sun or your lights. You will no longer have to take 20 photos to get one right because your drapes are to the rescue.
There are so many things you can do with outdoor curtains if you put your mind to it. The possibilities are endless. If you are trying to block the neighbor's view, get less exposure from the sun, add some color to your outdoor space, filter light from your patio or create an accent wall, try outdoor drapes. Curtains no longer serve only one purpose. It's amazing how many things you can do with products you would never think about using.