Article Testimonial
Outdoor Drapes Enhance a Kessler Park Historic District Bungalow in Dallas, Texas
We no longer have to travel to a far destination to experience nature at its finest. Outdoor living has become an extension of our homes and allows our busy life to slow down and ponder the world beyond our back door. For many of us we are stumped at the idea of an outdoor area that can resemble the same comfort and sophistication of the indoors. But for this family, it's been realized that there are no limits to what is possible.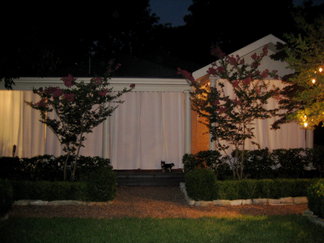 For Chris and his family, building their outdoor oasis to match their historic home began with adding a deck to the backyard. Having the luxury to live in one of the most beautiful historic districts in Dallas, Texas has been a blessing to say the least. Where exactly is this Historic District located? "Kessler Park in a residential area named Oak Cliff. It is literally one of the best-kept secrets in Dallas since we have easy access to downtown, a plethora of restaurant choices, tons of great neighbors and all that in the town that was originally to be Dallas!"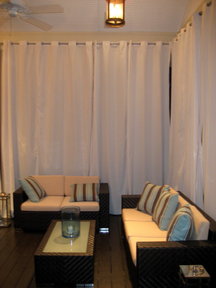 The Kessler Park Historic District is an excellent assortment of 1920s-1940s bungalows and large, revival style houses. Although historic bungalows with craftsman details are few and far between, they still offer all the elements of charm and beauty as the other revival style homes. "We are both professionals. We enjoy spending time decorating, renovating, and reading about the history of the house and the neighborhood." This development was built in the 1920s and 1930s by a man named George Kessler, a pioneer city planner and landscape architect back in the late 1800s to early 1900s.
In 1893, he drew up a plan for the development of the city's park-boulevard system. He designed and landscaped the St. Louis World's Fair grounds in 1904. The same year he redesigned the grounds of Fair Park in Dallas however his biggest contribution in Dallas, the 'famous' Kessler Plan, came five years later. His ideas of community planning became more important with each addition to the subdivision.[1]
With homes built in the 1920s, the residents of Kessler Park have maintained and respected their homes with the utmost care and consideration, keeping everything intact to the fullest restoration possible. "We enjoy the neighborhood and our 1928 bungalow/craftsman style home - which we've slowly but surely been restoring. The one item it has always lacked was a great outdoors living space so we finally did it - after a long six months the deck was done and just in time for the HOT Texas summer!"
Christopher and Brian obviously wanted to keep the integrity of their home so when they added the back deck they wanted a way to block out the sun while still allowing a breeze to blow through; installing outdoor drapes seem to be the best solution. "We wanted to provide shade on the porch since it faces west and the panels just add a wonderful charm and elegance which fit right in line with our homes existing architecture."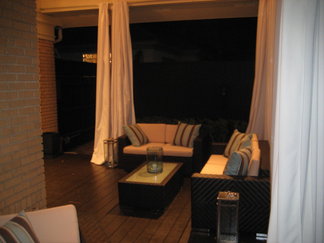 These Sunbrella Natural outdoor drapes were just the touch they needed to complete their outdoor oasis. The amount of drama and ambiance created by outdoor drapes is really a small price to pay for the results you are left with. Sunbrella fabrics are made with solution dyed acrylic yarns which allows the color to stay true in any amount of rain or direct sunlight. Sunbrella come with a 5-year warranty against fading, mildewing and staining from normal wear and tear, which explains why this family chose to provide their home with the best quality outdoor fabric on the market today.
Christopher had also mentioned, "In fact, the neighbors have commented on them - they absolutely love them and can't wait till we have a party! That's coming soon!"
Having a great outdoor area is a way to reach out to our neighbors and friends. Who knew that outdoor drapes could provide a cozy welcoming environment for all those that we care for.
[1] Source: Kessler's neighbors United, History of the Kessler Park Historic District