Outdoor Drape Ideas For Restaurants
Piegari's Restaurant, San Angel Mexico
Outdoor drapes have taken on a whole new meaning when you gaze upon these larger-than-life draperies that one restaurant in the San Angel area of Mexico, named Piegari's, dared to dream. This new chic Italian restaurant was once a lavish mansion; however, with the special request from a prominent architect, now is adorned in these Sunbrella Dupione Papaya fabric, which adds elegance and sophistication to this entry way.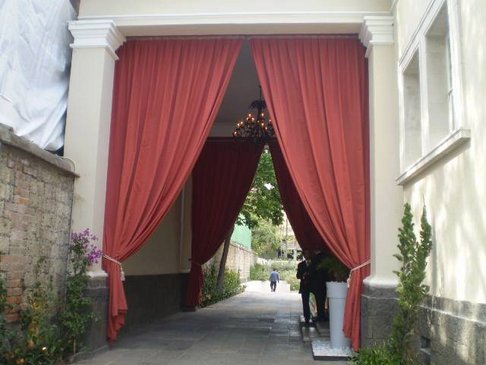 The beauty of Sunbrella goes beyond the obvious because they are not only gorgeous to look at but they are one of the most durable outdoor fabrics on the market today. With all the exposure to the outdoor elements - wind, rain and sun - these curtains need to be resilient, and go further than any other outdoor fabric material.
Sunbrella fabrics are made from 100 percent solution-dyed acrylic yarns. Solution-dying is a process that adds color to the acrylic fibers while they are still in a liquid state. This allows the color to penetrate through the fibers which helps the fabric not to fade. This keeps the color true and accurate for much longer than those outdoor fabrics of the past; also, Sunbrella's UV-resistant color pigments are fully blended into its high performance fiber which constitutes their excellent reputation from the American Cancer society. Another attribute to these fabrics is being water repellent. This means that during the finishing process, a water-repellent finish is applied to the fabric. You can pour buckets of water on this fabric and the water rolls right off so it dries quicker and if kept clean will resist the growth of mold and mildew.
Notice the size of these drapes; they were sewn in three sections to make a 19' by 4' panel, with each panel weighing 22 lbs. The results are nothing more than magical. That's the beauty of drapes. They have a way of bringing great presence to a space along with a bit of whimsy. The idea of photos like this is to inspire you to think outside the box. Whether you have a pergola, patio, deck or gazebo area, outdoor drapes can add a special touch of drama and sophistication that draws you in and welcomes your friends and loved ones.