Ideas For Outdoor Drapes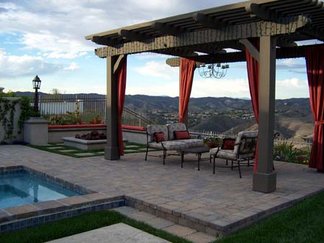 Today, there is nothing you can do inside your home that you can't do outside. Pergolas are one of the easiest ways to begin your
outdoor living area
because it provides structure and the illusion of an actual room. Pergolas have beautiful columns that can give such stature and poise to any garden. These gorgeous burgundy
outdoor drapes
create definition by framing this area.
Outdoor furniture
and accessories are a must and should match the aesthetic of your home, but to truly capture warmth and a indoor feel to your outdoor room, you need that little extra something.
Outdoor curtains
and drapes can help to add even more style and sophistication to your outdoor paradise.
For those of you that already have an extension of your indoor space, outdoor drapes can be your best friend. This photo shows an outdoor fire next to a pergola. By adding rods to the corners, you can hang virtually any kind of drape you wish. We have a wide variety of outdoor fabrics to choose from which allows you all the options in the world in picking out that perfect pattern and color for your back porch area or patio. Outdoor drapes allow you to enjoy the outdoors year round. Imagine having a relaxing candle lit dinner on a cool fall night with family and friends, surrounded by beautiful crimson red drapes that enclose warmth and coziness. Outdoor custom drapes have the ability to really bring ambiance and atmosphere to the outdoors.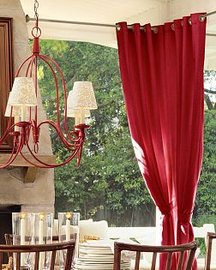 Here at Outdoor Drapes we also specialize in custom indoor curtains and drapes. Sunbrella brand fabrics offer a wide variety of outdoor as well as indoor materials to choose from. You'll be impressed by all the designer styles and patterns that Sunbrella has to offer. We have our new High Point collection of outdoor fabrics that are so beautiful you'll want to use them inside your home. These gorgeous grommet taupe textured weave curtains are ideal for any living room or dining room area. Grommet drapes really give that crisp clean and modern look to any window. Custom indoor draperies really bring tailored beauty and elegance to your home.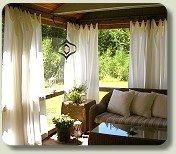 This covered deck is surrounded by beautiful natural linen draperies. By adding curtain rods around the top of this covered deck along with decorator drapery hooks, it allows you to have privacy and enclosure to the outdoor elements as you desire. Who wouldn't enjoy a nap on a hot summer day or a relaxing area to sit and enjoy a glass of iced tea with a friend. Outdoor drapes can really allow such a different and unique space to emerge in your home.